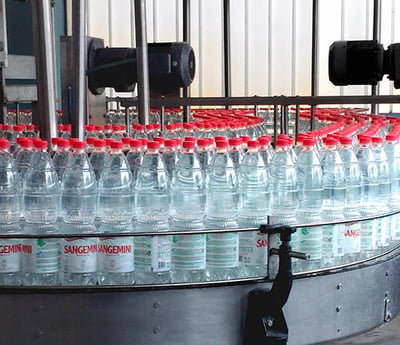 This Case History will show how SIPA, a leading company in manufacturing and marketing PET preform and PET bottle production systems as well as complete filling lines, was able to meet the needs of a prestigious mineral water brand like Sangemini.
Let's see this PET application for PET water bottle.
PET application: the customer Sangemini
Sangemini was established in 1889 in the town with the same name (San Gemini) in Umbria, not far from Perugia. It now belongs to the Acque Minerali d'Italia group, which works within five centres of excellence and includes 26 sources of spring water throughout Italy, from Venice in the north to Basilicata in the south.
The company's most famous brands include Gaudianello and Norda, and obviously Sangemini.
The San Gemini spring is rich in a form of calcium that is easily absorbed by the organism, making the water especially suitable for the very young and elderly.
The water is also recommended for people suffering from various forms of digestive disturbance, with visitors arriving for therapy causing the local population to rise by about 4500 inhabitants in the summer months.
The company needed to achieve top production performance with the lowest consumption possible.
PET bottle water: SIPA's solution XTRA

To tackle the customer's need, it suggested XTRA, the first blower in its class to work with the highest bhc in the industry, featuring the widest process angle and the overall best TCO, combined with simple and innovative usage experience.
Thus Sangemini initially adopted the XTRA 10 rotary stretch-blowmolding system, and was one of the first customers to do so.
READ ALSO: "PET bottle filling machine: rotary, isobaric and gravity"
XTRA's technical characteristics
SIPA's XTRA has a higher cavity productivity than any other competitor, reaching up to 2550 b/h/c.
It also has a reduced power consumption, is highly flexible and easy to use, in addition to being compatible with other machines up and down stream.
The equipment can produce 0.2 to 3.5 litre of PET water bottles, quickly and easily.
The new system combines unique functions to improve performance and cut the total cost of ownership (TCO).
It has a wider process angle (275 degrees) providing a surprising active angle of 200° - a value which exceeds current market standards by about 15% - to be able to blow a longer time with high pressure air, allowing the production of (also complex) containers with extreme precision.

There are two settings for the stroke of the press: short, to produce bottles up to 1.5 L with a top speed of 2550 bhc; and long, for containers up to 3 L, producing up to 2400 bhc, by simply replacing a mechanical component.
Customer satisfaction for PET water bottle
The customer expressed its satisfaction not only in words, but also by ordering a second additional machine shortly afterwards, in this case an XTRA 12.
Sangemini also produces a sports bottle with an innovative design with its two XTRA units. The sizes range from 330 ml to 1.5 L.