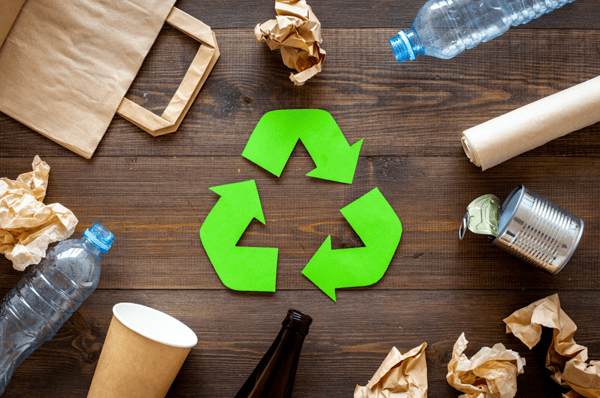 Today we are highly aware of the damage that is being done to the planet because of the irresponsible disposal of used plastics packaging. It ends up on our streets, in our fields and rivers, and ultimately in the oceans.
Microplastics, the result in part of degradation of plastics in the environment over years, are turning up literally everywhere. And a lot of the blame is being put on the plastics industry.

The considerations are currently tending towards a gradual virgin PET reduction to obtain a good packaging.

Solutions that companies are adopting, in terms of environmental sustainability, through the use of substitute materials, are illustrated below.
Plastics beat glass and metal in many ways

The fundamental advantages in terms of environmental impact for plastics packaging over alternatives are quite clear. For example, far less energy is required to produce units of equal size than in aluminum or glass, far less water is consumed in their production, and far less carbon dioxide is produced in the process.
Much-criticized single-use plastics (SUP) packaging, such as that used for fruit and vegetables, can reduce packaging weight in transit, thus cutting fuel emissions from trucks, and then goes on to improve hygiene and reduce food waste in stores.
Studies have also shown that if plastics packaging were to be replaced by other (non conformed) materials, the overall packaging consumption of energy and greenhouse gas (GHG) emissions would increase.[1]
READ ALSO: "PET bottles vs glass and cans: costs and benefits working with PET"
What does it mean "renewable raw materials"?
A renewable raw material is a material that regenerates quickly.
Sugar cane, for example, is a renewable raw material as it produces and reproduces naturally in a cycle in each season.
Plastics derived from sugar cane, as well as those of plant origin, are so defined bio-based or renewable.
How to measure the renewable component
To assess this aspect usually the BCC is used as unit of measurement, or the carbon content of vegetable origin (Biobased Carbon Content).
The higher the percentage of BCC within the polymer, the smaller the percentage of CO2 emissions into the environment.
PET Packaging alternative materials: from GREEN PET to rPET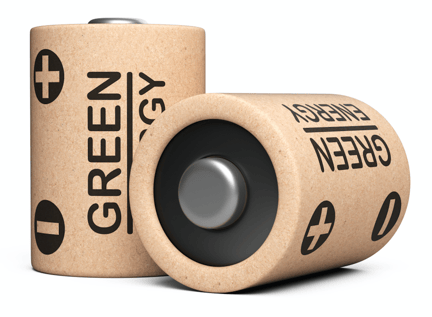 Green PET
The petrochemical PET is composed of 30% hydrocarbons (ethanol) and of 70% Terephthalic acid.
Still today, totally plant-derived PET does not yet exist: indeed, if ethanol can be replaced by a renewable source component, the petrochemical-derived Terephthalic acid is irreplaceable.
The result is a bio-based PET to 30% by mass.
The BCC of Green PET is less than PE, an overall of 20%, while ensuring a reduction in the emission of CO2 in the environment equal to 30%.
In terms of mechanical and aesthetic point of view, the Green PET maintains the main features of PET.
READ ALSO: " PET Bottle recycling: How are non-european states moving "
rPET
The rPET is PET got through the regeneration of PET recycled bottles.
The basic material resulted from post consumer bottles and industrial waste from PET bottles.
The bottle-to-bottle process includes:
Sorting through automated processes

Automatic removal of labels and color sorting

Washing

Granulation technology, washing process and settling after which the various granule sizes are separated
PET regranulate may then be customized with coloured or transparent master colors to be used for the production of other bottles.

Recycling PET bottles for new productions provides an important contribution to the reduction of CO2 emissions.
READ ALSO: " Lightweight Bottle. Reducing PET containers weight and the Lifecycle "
Alternative materials different from PET
Green PE
The Green PE is a bio-based polyethylene available with LDPE, LLDPE and HDPE.
It is chemically a polyethylene, and therefore has the same mechanical and physical features of a petrochemical PE.
The Green PE is miscible and recyclable with the petrochemical PE.
Both for producing bottles and tubes is used.
rPE
The rPE is based, not exclusively, on the same process of post consumer plastic bottle recycling.
As for rPET, even rPE maintains the technical performances of the Virgin PE ensuring excellent workability.
The bottles produced in r-PE have a covering gray color, deviating from those produced with Virgin material. For this reason, to make them more attractive, it is recommended the use of dye and/or customization through decoration[2].
[1] Sources:https://www.sipasolutions.com/en/magazine/previous-issue/download/53
[2] Sources: https://www.pibiplast.com/company/think-green/?lang=en