Over the past few years, projects which have as their objectives the production and marketing of packaging (preform and bottle) for beverage and liquid food (water, soft drinks, oils) made up to 100% recycled plastic were developed, after having carefully evaluated their functional properties and suitability.
European legislation under Regulation (EC) No. 282/2008 provided for the possibility of using post-consumer recycled plastics (those coming from the recycling of plastics) for packaging of food products, provided that the material is from a certified recycling process, and meets all the requirements for food contact.
The project responds to the need of reducing the amount of waste from food packaging products in Europe, representing more than 60% of total packaging waste.
READ ALSO: "From used to new 100% rPET bottles: SIPA Xtreme Renew"
The food industry may not remain under continuous pressure to reduce the environmental impact of packaging without compromising the quality and wholesomeness of products.
PET bottles are one of the best products from this point of view because they are 100% recyclable.
Using recycled plastic material is highly beneficial for environment: this process reduces the amount of material to be disposed, reducing dependency on fossil fuels.
Staining and contamination factors in innovative plants of rPET packaging
Steps to develop rPET food packaging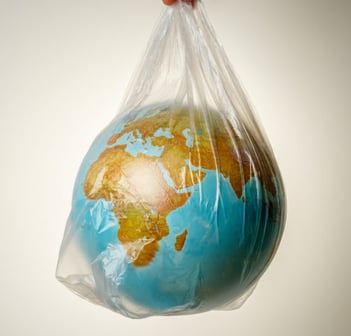 The activities carried out by companies that manufacture rPET packaging are organized according to complementary stages designed to optimize both the post consumer plastic recycling process, and the container manufacturing.

The goal is to achieve a guaranteed product in terms both of food security and functionality.
The main steps are:
Streamlining the recycling PET process
Ideally, in this case, it is necessary to build cooperation with specially certified companies for the production of recycled polymer: the technical specifications of the material and the regeneration process shall be optimised in relation to the specific feature requests and wholesomeness.
This technology involves a mechanical recycling process in which used consumer plastics are collected, ground into small flakes and decontaminated, before being processed into new materials for use in the food chain.
Within the European Union the process has to obtain a positive opinion by EFSA.
Recycling PET: production of packaging
Starting from post-consumer recycled PET flakes, suitably regenerated, are made food-contact preforms and bottles in recycled plastic up to 100%.
Assessment of packaging functionality
Besides the declaration of compliance for food contact materials, packaging made from rPET should be studied analytically, with respect to functionality, healthiness and ability to respond to specific requests for liquid food packaging.
Business plan
In addition to evaluating sustainability and packaging features, it is always advisable to develop a business plan for marketing of bottles made from 100% recycled plastic.
Pay attention to the colour of post consumer PET bottles
The companies involved in collecting used PET shall subdivide PET bottles by color (colorless, blued, multicolored).
These are then converted into flakes through a multistep process: grinding, hot washing, flotation and spinning.
The high quality of rPET flakes enables further use within many fields.