PET bottles: from marketing to ergonomics
PET material is increasingly used within the food context, especially for a high value product such as edible oil.
Polyethylene terephthalate has, in fact:
lower production costs,
offering extreme convenience and portability thanks to the low weight,
strength (especially when compared to glass fragility)
transparency, to show the product purchased to consumer.
To these advantages, which bind traditionally to PET, should be added those deriving from innovations in the packaging industry, through additional and important plus.
Properties of PET bottle for edible oil
PET presents, as anticipated, a significant number of advantages for producers of edible oil (of all kinds), a versatile and odour-free material, capable of maintaining oil flavour and taste.
The market shows a trend which is gradually consolidating, with the transition from tins and glass to rigid and transparent forms, including PET bottles.
Unlike tin, cartons and HDPE, PET, thanks to transparency, allows the consumer to see the product; this results in the perception of better product quality, than closed packaging.
The direct consequence of this property is an incentive to encourage impulse buying.
In any event, some consideration must be given to the argument that PET is available not only in a traditional transparent design, but there are also other coloured, mat or glossy variations, in order to match producers' needs.
READ ALSO: "EDIBLE OIL BOTTLE PACKAGING: FROM TIN TO PET PRODUCTS"
PET bottle: design and creativity for marketing benefit
PET is considered a value-added material, especially from the point of view of product marketing, favouring creativity and design.
According to the most recent market research, in fact, PET containers are particularly preferred by companies to launch new products.
Read Also: "Key characteristics of edible oil bottle packaging"
On the one hand, PET containers and PET bottles offer an easy custom label service. On the other hand, in addition to traditional forms, PET allows a wide variety of innovative shapes and sizes, not only for small packaging, but for those exceeding 1.5 L, up to 30 L.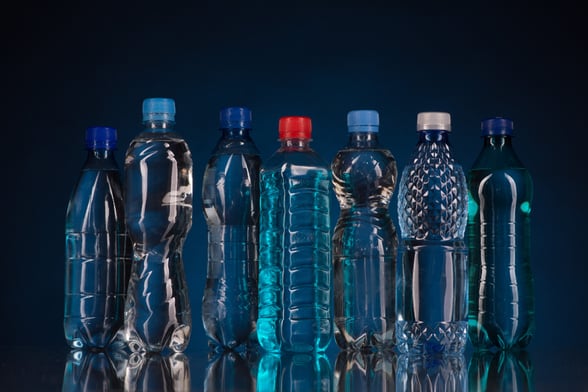 PET bottles: ergonomics and load capacity
Beyond the appeal related to shapes, there are practical and functional reasons for choosing PET containers.
We are talking here about container-filling machine combination (Pet bottle production systems) that allow an efficient capping system, plus the ability to optimize bottle top load resistance using a drop of nitrogen in the bottle headspace.
PET also offers several ergonomic solutions with possibility of identifying handles designed for a secure grip during transport and pouring process.
These are some of the most innovative solutions regarding handles:
Built-in hand grips with recess.
Butterfly handles - 2 L & above.
Injection moulded handle - 2 L, 3 L
Finally, PET is undoubtedly the future of product packaging for edible oil, even more so as we contemplate the easy product recyclability and the light-weight, so the environmental sustainability, and the progressive use of r-PET in the packaging line edible oil for different formats.