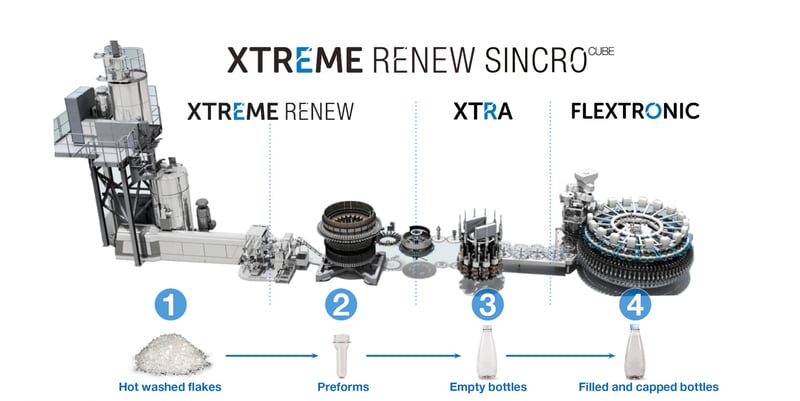 Within the context of PET bottling lines, SIPA technology has created XTREME RENEW SINCRO CUBE, that is to say the integration of an injection-compression rotary preform production machine using rPET flakes (thanks to the model XTREME RENEW), an XTRA rotary blowing machine and a rotary filling and capping machine.
An absolutely innovative line that only SIPA is able to offer its customers, thanks to its ability to integrate systems and provide made-to-measure solutions.
The unique points of Xtreme Renew for the production of preforms in rPET
As mentioned above, Xtreme Renew is a real circular economy revolution, and the first system in the world that produces preforms and bottles in-line while safeguarding the environment, saving energy and money.
SIPA has developed this system that produces food-grade preforms from 100% rPET flakes in a single cycle.
A technology that respects the environment and allows a noticeable reduction in costs, thanks to a revolutionary "bottle-to-bottle" system designed on the basis of circular economy.
Read Also: "Avantgarde in circular economy: PET preforms from 100% recycled flakes"
Main characteristics of Xtreme Renew
There are many characteristics that make Xtreme Renew a truly state-of-the-art solution for the production of preforms containing up to 100% rPET from PET hot washed flakes, food grade and with qualities similar to those of virgin PET.
All obtained through: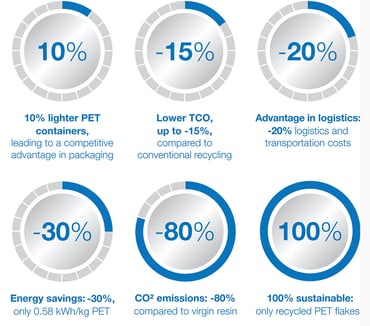 Simplification of the process

Safety, thanks to an approved process (FDA, Efsa, Invima, Anvisa, ...)

Maximum quality of the preforms: IV stability, superior chromatic values, transparent preforms, compliance with food grade requirements


Full sustainability: from waste to raw material resource

TCO reduced by up to 15% compared to the traditional recycling concept

Great energy savings (30%) compared to the traditional recycling concept


Reduction by up to 20% of logistics compared to the traditional recycling concep
Read the Case Study: "Energy saving production: SIPA for Permanis"
How to complete the line with the XTRA rotary blowing machine
Using Xtreme Renew, all the advantages of ultra-modern preform production are amplified thanks to the new SIPA stretch blow moulding systems.
The rotary blow-moulding machine range, named XTRA is suitable for the production of cold fill and hot fill bottles, in virgin or 100% recycled PET.

All XTRA models stand out for their ability to produce high quality containers at great speeds. A productivity level of 2,550 bottles/cavity/hour for 1.5 litre CSD containers makes the system one of the fastest in its category.
Up to the over 60,000 bottles/hour for the largest model in the range.
In the case of hot fill containers, XTRA machines have a production capacity of up to 2,000 units per cavity per hour (0.5 L), using a completely clean electric heating system: the oil-free mould allows rapid start-up and gives an accurate thermal profile.
Savings at TCO level and maximum performance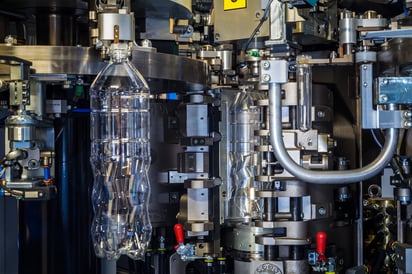 The new models of machine combine functionality and maximum performance, while at the same time reducing the total cost of ownership (TCO) by at least a quarter.
They have an extremely broad active process angle (200 degrees), reduced power consumption, high flexibility and ease of use, as well as compatibility with other upstream and downstream machines.
The high speed of XTRA machines is the result of a development process that places special emphasis on kinetics and mechanical movements, producing up to 2,550 bottles/cavity/hour.
To this must be added the advantage given by the reduction in size changeover times and the reduction in overall investment costs.

Read Also: "PET bottle blowing, filling and capping machine: advantages of integrated line"
Greater overall quality combined with flexibility
The active angle of 200 degrees on new XTRA machines exceeds current market standards by approximately 15% and facilitates the production of excellent quality bottles, even at high speeds.
A process angle this broad means that high pressure air is available for 0.8 seconds, allowing extremely accurate production of containers, even the most complex ones.

The XTRA press has two settings, short and long, according to the size of the bottle. This mechanical flexibility is added to the ability to pass from the production of hot fill containers to that of cold fill containers without having to modify the system in any way, with the exception of a quick changeover of blowing mould.
Great flexibility, to face current and future production challenges.
Want to find out details of all the SIPA options available for your company?
Contact our experts.