There are endless possibilities, unthinkable to date, connected with bottling of liquids using the properties of new materials like the various co-polyesters.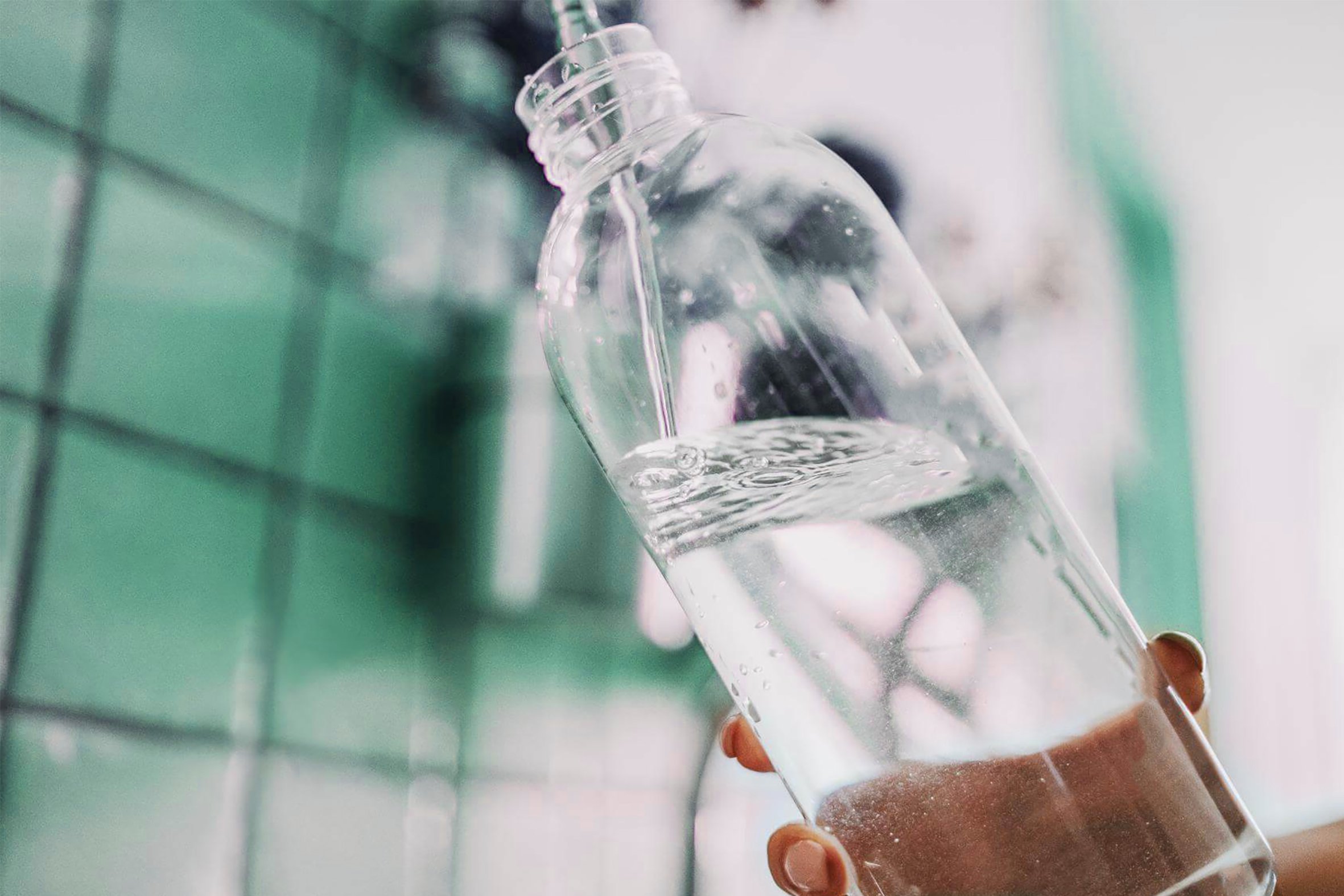 These modern challenges are won by companies who have known how to make decisive use of technological innovation, making use of the advantages provided by new materials on existing machine, that is to say machines used for traditional containers for beverages (carbonated and still) and non-food liquids made of PET.
Solutions capable of creating both PET preforms and co-polyester preforms in various formats
Some companies, for example, may need to create bottles that can be re-used several times, to be filled with carbonated beverages.
In this case also, the market offers various solutions, including one that is decidedly advanced, proposed by SIPA thanks to its XFORM Gen4.
Technology aims to target the most demanding applications, guaranteeing the highest preform quality and process consistency at the lowest manufacturing cost.
Case Histories: "San Miguel Industrias PET choose XFORM500: PET preform systems by SIPA"
While CEOs will benefits from possibly the lowest conversion cost in the industry coming from extremely fast cycle time, record-high energy efficiency, lower-in-the-industry maintenance costs and full flexibility in using legacy tooling, operators will enjoy a brand new experience, thanks to the totally redesigned 21.5" HMI, self-setting process set-up, preform troubleshooting tutorial which ultimately deliver a top-level user friendliness.
For this specific need it is possible to resort to a machine that is suitable to produce several different types of preform: i.e. for 0.5-litre bottles, preforms in PET, as well as in a high-performance co-polyester, which weighs just 60g.
The particular type of co-polyester taken into consideration for this type of application has a glass transition temperature of around 95°C - almost 30°C higher than PET.
Trends: "Tritan materials: the boom of containers easy to sanitize and re-use"
This means that bottles made in the material can be put in a dishwasher, so that they can be re-used for years by the end consumer.
A company may also need to produce 1 litre bottles, so the same machine (XFORM) is able to produce preforms in PET or in co-polyester, thanks to the use of different tooling.

Technical characteristics of the production process
Regarding the production process it is interesting to know that the preforms are automatically taken out of the mould by a "cool pick plate" on a robot arm and transferred to a stabilization station, where they remain for several cycles.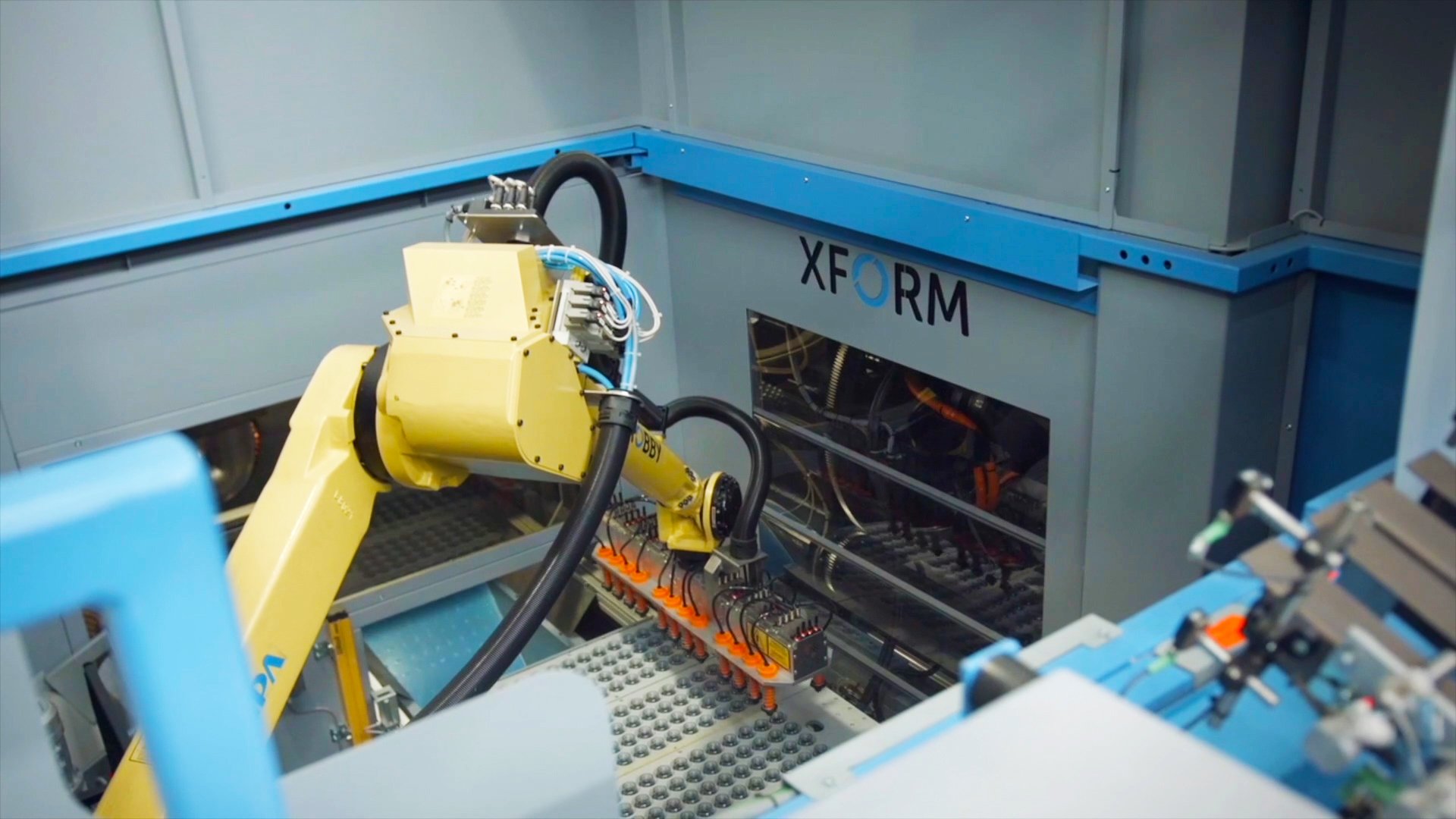 Once stabilized, they are picked up by a six-axis anthropomorphic robot, which has special head equipped with vacuum suction.
The next passage carried out by the preforms is to the stretch blow moulding phase.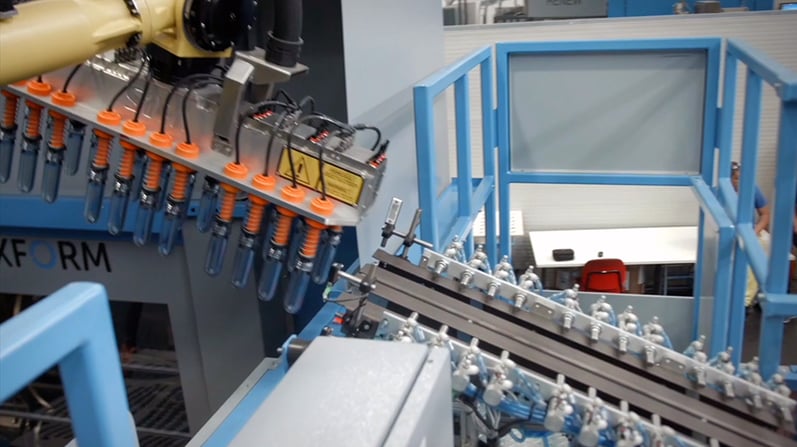 Here, the bottles are formed (the necks are also oriented) and then transferred using star wheels for 100% in-line scanning with a camera to ensure their quality.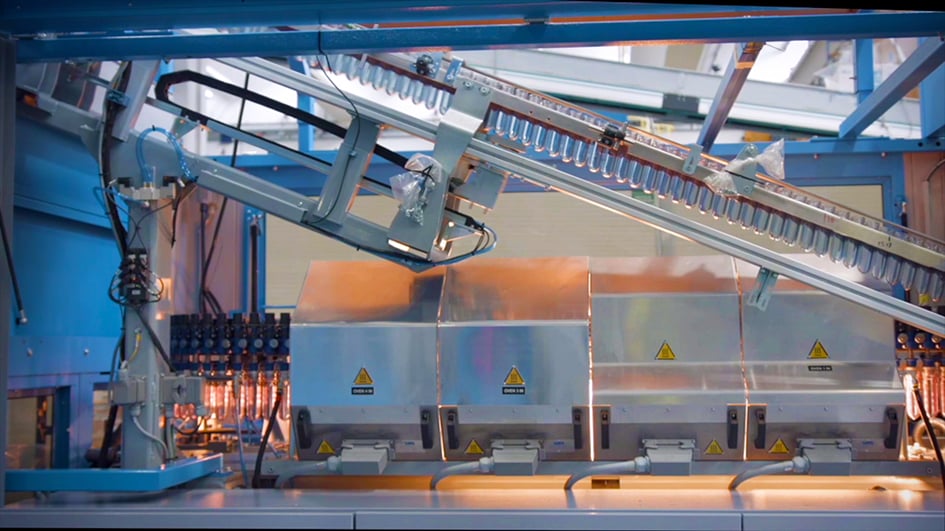 The entire process, uninterrupted, can take place at a speed of approximately 3000 bottles per hour.