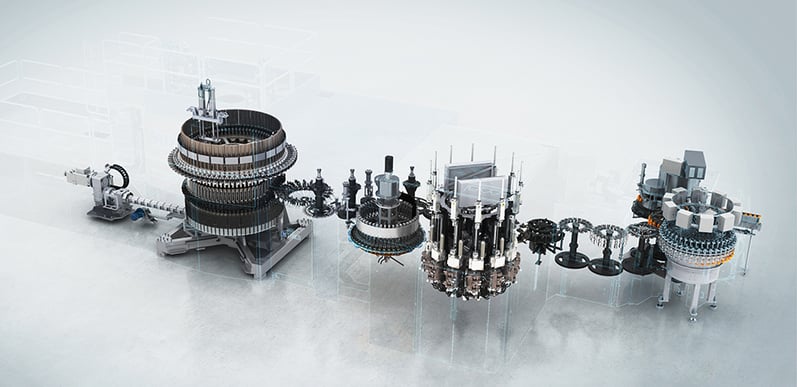 Among the big players on the PET bottling market, SIPA is the only one to have further expanded the concept of integrated lines and taking advantage of their full potential.
SIPA technology is not restricted to the perfect integration of a rotary filler with a blowing machine (whether linear or rotary), but considerably expands the horizon for integrated applications, also offering upstream integration of the production of preforms.
Sipa has systems for the production and filling of bottles (with both linear and rotary blowing machines) as well as for the production of preforms.
More specifically, thanks to the revolutionary XTREME rotary injection-compression system, it opens new vistas for integration of the production of preforms with the bottling lines.
In the XTREME Sincro version this system can actually be connected to a rotary blowing machine to blow bottles, while in the XTREME Sincro Cube version it integrates in a single system the production of preforms, blowing moulding of the bottles, filling and capping.

The extreme cleanliness of SIPA's Sincro systems
Simplicity helps cleanliness and hygiene. Along with the traditional advantages of known blowing/filling synchro systems, where it is not necessary to rinse between blowing and filling and no external transportation systems are required (th
us keeping the bottles in a clean environment at all times), with the XTREME SINCRO CUBE option, protection of containers from the external environment has been drastically increased.
Production of the preform, blow moulding of the bottles and filling are integrated in a single protected system: it starts directly from the PET granules and ends with a filled and sealed bottle ready for secondary packaging, without ever coming into contact with the external environment
The high levels of cleanliness make this option suitable for many uses: water lines, processing of sensitive products, bu
t also CSD which must not contain artificial preservatives.
Read Also: "PET bottle packaging machine: hygiene and differences between single and two-stage"
Record preform lightness

Thanks to the XTREME Injection-compression system it is possible to produce preforms up to 10% lighter in weight than the ones produced using a conventional injection moulding system, without losing any of their essential properties. The weight can be removed from the body and bottom of the preform.
Not long ago, the maximum length-to-body thickness ratio (L/t) for an injection moulded preform was a little over 45. Thanks to XTREME technology, it is now possible to achieve an L/T of double that, up to 80.
Manufacturers can now create a 500 ml preform that weighs just six grammes. The system is particularly suited to the production of preforms for bottles of up to 1.5 L in volume, but it can also be used for bottles of up to 2.5 L.
With its rotary configuration and pneumatic movement, XTREME is perfectly adapted to a Sincro Bloc combined with any rotary stretch blowing system manufactured by SIPA. In XTREME Sincro, this system is coupled directly to the XTRA rotary unit.
Technical Study: "Producing ever-lighter preforms and bottles: the advantages of synchro systems"
Very low energy consumption levels

Numerous factors help give the integrated system high energy efficiency. Firstly, XTREME uses lower temperatures than a traditional injection moulding system, thus reducing energy consumption by approximately 10% in that section alone. What is more, integration of the production of preforms and blowing of the bottles gives a further advantage in this sense.
Just like SIPA's single stage ECS systems, it is not necessary for Xtreme Sincro to cool the preforms immediately after they have been produced, and there is no need to heat them again just before blowing. Conventional ovens with infra-red heating have been replaced by a conditioning station for the areas of the preforms just below the neck.
Case History: "Energy saving production: SIPA Sincro Bloc for Permanis"
Ease of use and low running costs
Right from their design phase, the various integrated system configurations supplied by Sipa have in common a great attention to ease of use, high working flexibility, with a reduction in format changeover times, and keeping running and maintenance costs low, resulting in a highly advantageous total cost of ownership (TCO).