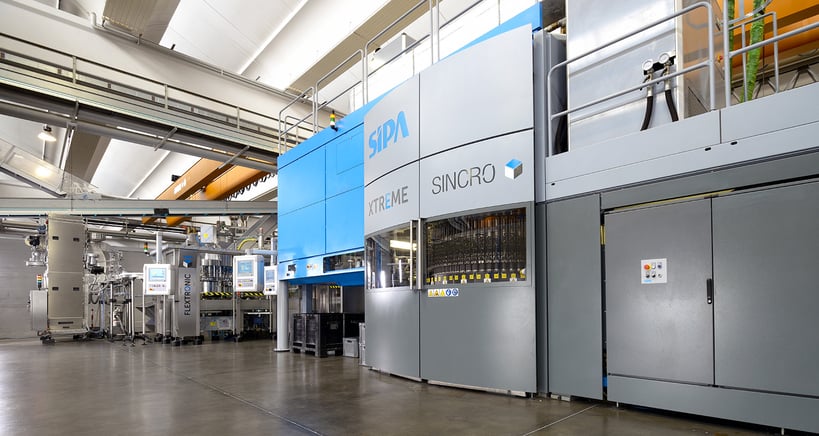 The whole value of Xtreme emerges in the integrated Sincro Cube line, a unique solution made possible by SIPA technology.
Xtreme Sincro Cube is actually able to combine perfectly an XTREME injection-compression rotary preform production machine, an XTRA rotary blower, a machine from the rotary filler range and a capper, to offer the very best in PET bottling production.
The advantages offered by XTREME SINCRO CUBE
The essential advantages of the XTREME SINCRO CUBE line are compactness, flexibility and ease of use. It is also designed to require fewer operators than alternative traditional lines to give the same production targets.


It is an extremely clean system: there is no intermediate step between the production of preforms and blowing: everything passes through a closed and controlled environment with sterile air and Hepa filters, without the need of preforms storage and air conveyors.

Read Also: "Advantages of PET bottling lines:cleanliness, flexibility, lower costs"


For the same reason, the preforms are not subject to any scratching. Power consumption is also reduced to a minimum, given that the preforms are immediately blown in a single heat cycle.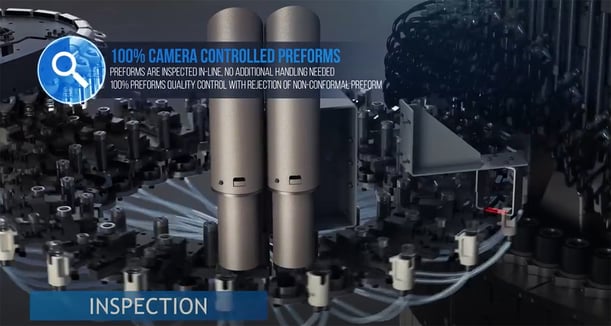 At the same time, XTREME injection-compression production of preforms guarantees high quality preforms that are 100% controlled thanks to in-line quality control with up to six cameras.
Blowing bottles on XTRA rotary blowers therefore offers extraordinary performance. The active process angle, which is very broad, allows high quality, stress-free production at high speeds.

Here again, as in the case of other creations from the SIPA research and development laboratories, the solution is extremely efficient, with reduced power consumption, using a single thermal cycle: in this way it is not necessary to cool the preforms and then heat them again for blowing.
Technical characteristics of XTREME SINCRO CUBE
All the advantages of the integrated line proposed by SIPA can be seen from the technical characteristics.
Preform production
XTREME Sincro Cube incorporates the production of preforms using the revolutionary XTREME injection- compression moulding system.

XTREME allows the highest L/t ratios in the sector, with unique lightweighting capacity without loss of performance.
A much lower injection pressure reduces material stress and power consumption.

This option also allows 100% preform inspection capacity, reduced footprint and is extremely clean, as it is totally oil-free.

Bottle blowing
SIPA rotary blowing machines are designed to guarantee considerable process flexibility at high production rates.

A production rate of up to 2,550 bottles/hour for standard bottles, but also of customised bottles, for hot filling, that can reach 2,000 bottles/hour.
Filling and capping
XTREME Sincro Cube is extremely versatile in this phase of the process.

The full range of filling machines can be combined with the rotary blowing machine: isobaric fillers, gravity fillers and hot fillers, both mechanical and electronic volumetric filling versions, including a weight filling option.
Read Also: "Advantages of XTRA rotary blowing machine combined with rPET preform"
Application fields
The XTREME SINCRO CUBE integrated line can be configured for all types of product:
still and carbonated,

cold fill and hot fill,

with and without pulps,

sensitive products (including CSD without preservatives)

products with a high added value such as edible oils, milk and dairy products, premium clear fruit juices, products for personal care and for the home.
Want to find out details of all the SIPA options available for your company? Talk with our experts!